Encapsuling and related machines
Healthcare Products
Fully-automatic Capsule Filling Machine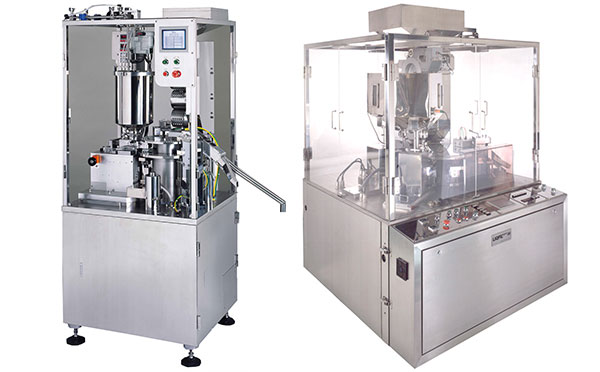 A fully-automatic system for filling hard capsules with powder, granules, tablets, or liquids.
We have a wide range availability: from high-speed units to machines for laboratory use.
Features
1. Capsules can be filled with various dosage forms
Capsules can be filled with research or clinical samples in various dosage forms, including powders, three layer granules, oil or paste liquids, and tablets. The powder filling method can be switched between die compression and mechanical vibration.
2. Easy conversion
Both the cap disc and body disc are one-piece discs with excellent separation accuracy, which facilitates re-assembly after conversion, disassembly, and cleaning.
3. Highly accurate filling
The most suitable filling method can be selected to suit the characteristics of the powder, enabling highly accurate filling.
Our machine has better and superior filling accuracy particularly in vibrator powder filling, liquid filling and paste filling because of longer cycle time than competitor machines, even though keeping same production capacity.
Specification
Model
F-Labo
F-40
F-80
F-150
JCF
Maximum production capacity (capsules/hour)
2,600
40,000
80,000
150,000
40,000
Capsule sizes
00 to 5
Filling materials
Powder, Granule, Liquid, Tablet
Powder
Powder filling methods
Die-compress, Mechanical Vibration
Auger
Multi-dosage Weight Inspection Machine: MWI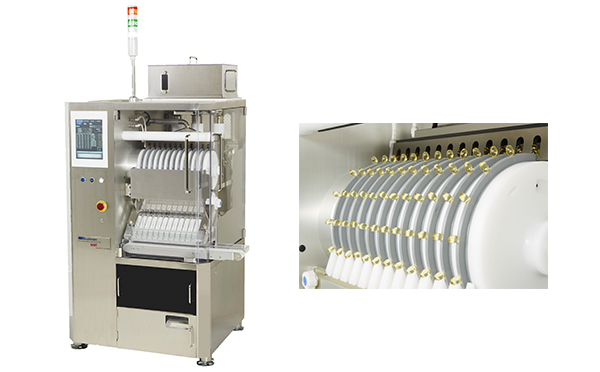 By adopting the suction and transfer method, the number of interchangeable parts for each product type is minimized;
this single unit can inspect the weights of various shapes of tablets and hard or soft capsules.
Features
✓ Adapted to weigh various shapes of tablets and capsules with lengths up to 22 mm.
✓ Guaranteed +/- 2 mg measuring accuracy. (+/- 2 mg for 500 mg or less; +/- 3 mg for 501 mg to 2,000 mg)
✓ Offers unparalleled performance and cost-effectiveness, with high processing speed up to 100,000 pieces/hour.
Specification
Model
MWI
Weighing range
20-2,000 mg
Weighing accuracy
+/- 2 mg (20-500 mg 3σ)
+/- 3 mg (501-2,000 mg 3σ)
Production capacity
Max. 100,000 pieces/hour
*Varies according to product size, shape and weight
Capsule Weight Inspection Machine: CWI Series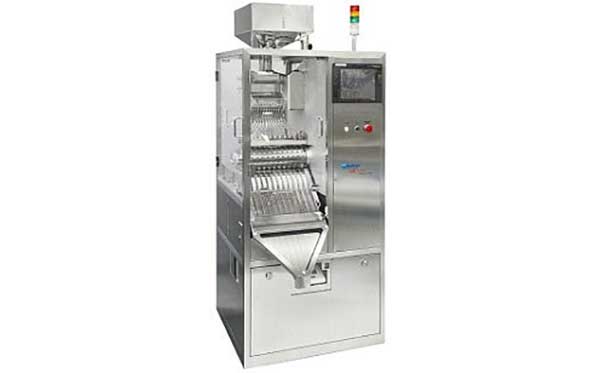 Features
✓ 100% weight inspection by high-speed and accurate processing.
✓ Automatic verification of the electronic balance is available.
✓ Discharge checking system for defective capsules is standard.
✓ Built-in automatic zero adjustment.
Specification
Model
CWI-60
CWI-125
Capsule size
00 to 5
Weighing range
15-1,000 mg
Weighing accuracy
+/- 2 mg (15-500 mg 3σ)
+/- 3 mg (501-1,000 mg 3σ)
Maximum production capacity
60,000 capsules/hour
125,000 capsules/hour
Fully-automatic Capsule Sealing Machine: S-125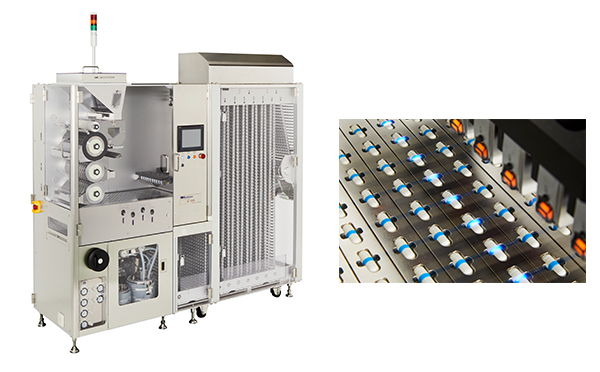 Seals the joint between the cap and body of hard capsules, contributing to product stability and providing tamper evidence.
Features
✓ Two-stage sealing process provides a stronger seal.
✓ Positioning guide allows capsules to be sealed at a fixed position.
✓ All capsules are counted and checked for quality via a contactless sensor.
✓ As capsules are dried at room temperature, this allows for drying seals without reducing capsule moisture.
Advantages of Sealing Capsules
✓ Prevents capsules being opened
✓ Prevents liquid or powder leakage
✓ Prevents odor leakage
✓ Reduces oxidation
✓ Aids product differentiation
Specification
Type
Lobo
Economy
Standard
Model
S-15
S-40
S-100
S-50
S-125
Maximum production capacity (capsules/hour)
Gelatin 15,000
HPMC 7,000
Gelatin 40,000
HPMC 20,000
Gelatin 100,000
HPMC 50,000
Gelatin 50,000
HPMC 25,000
Gelatin 125,000
HPMC 60,000
Capsule size
000 to 5
00 to 5
000 to 5
Viscos control as Water Supply system
Non
Non
Option
Band detecting sensor system
Non
Non
Option